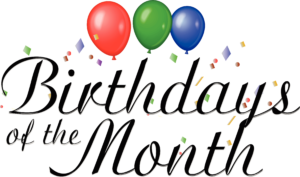 Hacienda de Vega was the scene of our gathering to celebrate the birthdays of Jo Brandt, Erika Burke, Ann Doering and Paul Lahr, as well as fellowship with one another. The restaurant serves delectable cheesecake to its patrons who are celebrating birthdays and there was plenty to share. We all agree that the burrito is the largest we have ever seen in any restaurant.
We are celebrating the birthdays of Faye Bacon and Bill Barnes on THURSDAY, November 8 at 11:30 a.m. at Dini's Bistro, 3290 Carlsbad Boulevard (parking in the rear of the restaurant). Lunches range in price from eight to fifteen ($8-15) dollars. In addition to your lunch, we request a one dollar contribution per celebrant which will go to Solutions for Change.
Everyone is welcome to join us but you do need a reservation with the Birthday Coordinator, Jo Voertman, jvbythesea@cox.net, 760-721-6674.