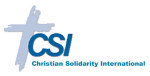 In October your Mission Fund contribution of $750 went to Christian Solidarity International (CSI), an international Christian human rights organization, campaigning for religious liberty and human dignity, and assisting victims of religious persecution, victimized children and victims of catastrophe. CSI is currently the only organization working to liberate Christians and other South Sudanese forced into slavery by government-backed forces during the Sudanese civil war.
Read more about the critical work of CSI HERE and see the important video HERE.
Thank you, and if you would like to insure that Redeemer by the Sea continues to make monthly contributions to worthy charities, you can designate your offering by marking "Missions" on your envelope or check.
Linda Staehr
Evangelism & Missions Chair