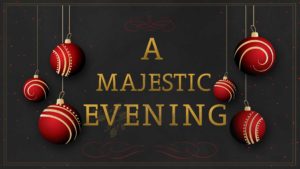 "A Majestic Evening" on Tues., Dec. 11th at 6:00pm in the Fellowship Hall.
Come and join us for an evening that includes
1) $20 gift exchange
2) Christmas caroling
3) $1/ticket raffle for the table centerpieces- proceeds benefiting Solutions for Change bag intake items and
4) Fantastic food!!!
"God comes in awesome majesty." Job 37:22
Potluck Dinner-sign up is on the counter in the lobby.