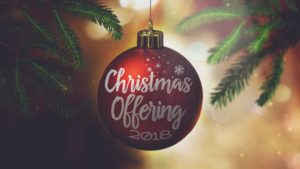 Christmas is the time when we think of the "gifts" we give to our friends and loved ones. Shouldn't this also be true that this is a time when we give "gift" to our Lord? This year the Christmas Offering will be divided equally to three areas:
San Diego Rescue Mission – This organization addresses the needs of men, women & children who are experiencing homelessness in San Diego. They share the Good News of Salvation and provide a holistic approach to rehabilitation and recovery.
2019 National Youth Gathering – Support for our high school youth who will be joining other young people from all over the country at this gathering in Minneapolis in July.
Redeemer's Benevolent Fund – This fund assists those in need (both within our congregation and outside).
You can make contribution using the green envelopes Sunday or online HERE anytime in December. Thank you for your generosity!