Carry each other's burdens, and in this way fulfill the law of Christ. Galatians 6:2
This is not an event it is a movement! We as a church family desire to commit over 4000 hours of service to our community, being the hands and feet of Jesus. Service is part of the fabric of our Christian lives. Making a difference in our community or in someone's life is a calling for which God has gifted His people. We are not a passive people but a faith community that engages our village, neighborhoods, and people. with the love of Jesus. Our Growth Groups and individual members are invited to record their hours and share their stories as together we serve our community.
Sunday Serve Day:

April 22, 2018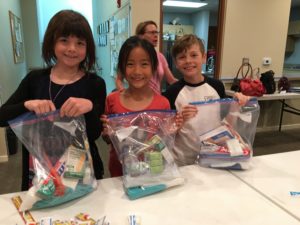 Families gathered in the Fellowship Hall and put together Hygiene kits filled with toothbrushes, soap, shampoo, etc, into special bags provided by Smile-Paks. These kits will be sent to countries effected by the recent hurricanes.
Saturday Serve Day:

June 3, 2017
Interfaith Breakfast
Prepare breakfast at the church and then deliver and serve it to the men seeking employment at the Inferfaith location in Carlsbad. Spanish speaking a plus. To find out more about Interfaith and the programs they offer, visit the Interfaith website HERE.
Solutions for Change – Children's Activities
Children's Activity Day! There are over 80 children living at the main campus. We will bring stories and crafts, sing songs, etc and interact with kids aged 5-9 and give them a special fun morning! Visit Solutions for Change website for more information about their transition programs.
Community Resource Center – Cleaning and Painting
Organizing, cleaning and painting at their food distribution center in Encinitas. Signed waiver required. Wear work clothes and closed toed shoes. Age 14+. Click HERE for more information about CRC.
Sunrise Senior Living – Cleaning and Socializing
Clean Dining Room Tables, Bistro Chairs & Resident's Chairs. They will have cleaning supplies. Sit and Chat with Residents, bible readings, cards, crafts, etc. Piano Playing & Singing a Bonus!! To find out more about this facility, click HERE to visit the Sunrise website.
Leo Carrillo Ranch Trail Cleanup
Head outdoors and celebrate National Trails Day at Leo Carrillo Ranch to help beautify the property. We will do some Trail Cleanup, Weeding, Trimming Bushes and Trash Pick Up. Wear work clothes, work gloves, and long sleeves if you would like. Click HERE to find out more about the ranch.
Goody Bags
We will stay at Redeemer by the Sea and prepare Goody bags for two groups:
– Interfaith Needs 30+ Goody Bags for Unemployed Men, which may include: Work shirts, Gloves, Hats, Razors, Shave Cream, Undershirts
– Sunrise Needs 20+ Goody Bags for Bedridden Seniors which may include items such as Puzzles, Cards, Coloring Books, Markers, Word Searches
Volunteer Meals at Redeemer
Arrive early (approximately 8am) to prepare some light breakfast items for the volunteers. Then prepare/order/pickup lunch so that it is ready when they return.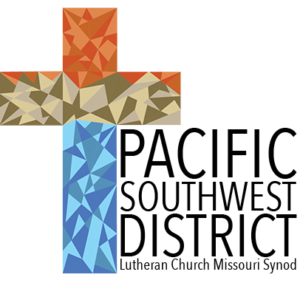 In March, your Mission Fund donation went to our
Pacific Southwest Distric
t. It is comprised of 300 congregations and 168 Lutheran Schools in Southern California, Arizona, and Southern Nevada. It is one of 35 Districts within the Lutheran Church—Missouri Synod. With an office on the campus of Concordia University in Irvine, CA, the District Staff seeks to "effectively resource congregations and schools for transforming lives and making the Great Commission REAL!" Please consider giving to The Mission Fund so we can continue to support vital causes and charities. Contact:
Linda
---
Your Mission Fund donation for February went to both the Lutheran Heritage Foundation, and to Wilson Vai.

The Lutheran Heritage Foundation is a mission organization dedicated to translating, publishing, distributing, and introducing confessional Lutheran materials worldwide. Over 587 titles have been printed in 72 different languages with many more in process. Published resources are used by pastors, seminary students, missionaries, and churches worldwide including in the United States to reach out to ethnic populations.

Wilson Vai is a Lutheran Field Monitor working with the Lutheran Refugee Congregation who has requested assistance in building a shelter for the kids. Wilson said, "The children are my priority, I have to find them better area to stay to be healthy." He wrote from Liberia.

Heidi Hill from Birth Choice called on February 20 and said she received a donation and wanted to express her thanks. Birth Choice was your January Mission Fund recipient.
Thank you for generously supporting these worthy charities. Contact: Linda
---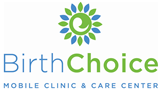 Your January Mission Fund donation went to
Birth Choice, San Marcos
. In addition to providing ultrasound images of their unborn babies, they provide pregnancy readings, after abortion and miscarriage care and education. Specifically, your $750 went toward their By Design program.
By Design Sexual Health and Wholeness, targeted towards teenagers and up, helps young men and women understand the value and worth of their body and the decisions they make in relationships. These workshops are held at the Birth Choice Office or other local, convenient locations. Registration is free. They offer this program in individual and group learning environments.
They also offer the successful By Design for Healthcare Professionals which provides medical professionals with an introduction to topics addressed in a Pregnancy Medical Clinic setting. Participants will be equipped to understand and share with their inter-professional team and the community how the Pregnancy Medical Clinic impacts women, their reproductive health including a holistic approach to fertility, pregnancy and family planning with the understanding that a woman's fertility affects her overall health. The information and principles shared will allow medical personnel to optimize patient care across the spectrum of health care This course is held at the Birth Choice Office or other local, convenient locations. Registration is free. Thank you, Redeemer, for supporting the Mission Fund so we can continue to support such organizations working hard to follow God's word. Contact:
Linda
for more information
---