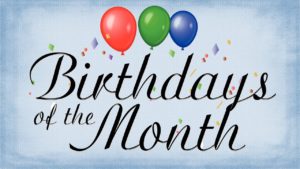 We celebrated the birthdays of John Bacon, Cordelia Degner, Otis Haarmeyer, Suzanne Hughes, Norma Russell, Jo Voertman and Joan Wilson at the Argyle Steak House. We were seated by ourselves in the hotel library, looking out over the lagoon—a perfect setting to celebrate birthdays. Celebrants were given crème Brule for dessert.
We contributed two hundred ninety-five ($295) dollars to Concordia University-Irvine. We will start the New Year off with a birthday lunch on THURSDAY, January 24, 2019 at 11:30 a.m. at Dini's Bistro, 3290 Carlsbad Boulevard, celebrating the birthdays of Jan Bishop and Erika Reiswig. Lunches range from twelve to eighteen ($12-18) dollars. In addition to your lunch we request a one dollar contribution per celebrant which will go to Solutions for Change, which helps homeless families in our community.
Everyone is welcome to join us but you do need a reservation with the Birthday Coordinator, Jo Voertman,
jvbythesea@cox.net
, 760-721-6674.