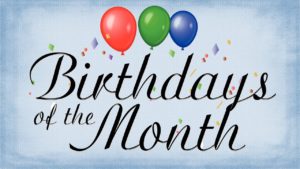 We celebrated the birthdays of Stella Berrier, Russ Hanthorn, Linda Staehr, Elizabeth Taylor and Audrey Wickstrand on THURSDAY, May 2 at 11:30 a.m. at the Hunter Steak House in Oceanside. It was a typical cool, May gray day but the fellowship was as warm as ever.
We contributed two hundred ninety-five ($295) dollars to the Special Olympics of Southern California.
Our next lunch will be in July so watch for the details. Everyone is welcome to join us but you do need a reservation with the Birthday Coordinator, Jo Voertman,
jvbythesea@cox.net
, 760-721-6674.