On this Ascension Day, we celebrate that Jesus is not dead. …
Image: Jesus' ascension to heaven depicted by John Singleton Copley, 1775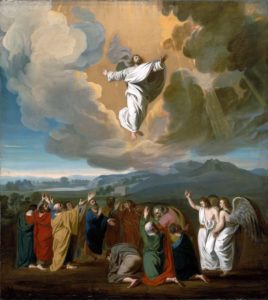 It's not just that He was once raised from the dead, only to die again … but that He was resurrected, appeared to His disciples and many others, then was visibly taken up into heaven where He still resides today! Acts chapter 1 records for us:
"After he said this, he was taken up before their very eyes, and a cloud hid him from their sight."(Acts 1:9)
What a marvel it would have been to behold! You can understand the disciples jaw-dropping awe as they stared up long after He was out of their sight. (As an aside, we use the word "awesome" in so many lesser ways, don't we? This would have truly been an awe-inspiring moment!) It's no wonder that the men/angels/messengers looked at them and said:
"Men of Galilee," they said, "why do you stand here looking into the sky? …" (Acts 1:11a)
But here's the part that not only inspires awe in us, but creates HOPE … the men continue:
"… This same Jesus, who has been taken from you into heaven, will come back in the same way you have seen him go into heaven." (Acts 1:11b)
Because Jesus did not stay dead, but was resurrected and ascended into heaven and is still living and reigning on His throne, at the right hand of the Father … and because He promised to return again, we have hope. It's as if we are living in the blink of eternity between Christ's ascension and His return – which will be like a "reverse ascension" … He will return in the same way, visibly in the clouds. Speaking of this event, Jesus himself said:
"At that time people will see the Son of Man coming in clouds with great power and glory." (Mark 1:26)
And the Apostle John's records his vision of this event in the book of Revelation this way:
"Look, he is coming with the clouds," and "every eye will see him, even those who pierced him"; and all peoples on earth "will mourn because of him." So shall it be! Amen. (Revelation 1:7)
Which is why we Christians are so adamant about telling people about Jesus – He lives. He reigns. He will return!
As some have said, "it was Christ's last command, so it ought to be our first concern." The very last words of Matthew's gospel are what have been called the Great Commission – Jesus sending us into the world to make disciples:
18 Then Jesus came to them and said, "All authority in heaven and on earth has been given to me. 19 Therefore go and make disciples of all nations, baptizing them in the name of the Father and of the Son and of the Holy Spirit, 20 and teaching them to obey everything I have commanded you. And surely I am with you always, to the very end of the age." (Matthew 28:18-20)
And ending where we began, Jesus last words to His disciples just before He ascended were:
"But you will receive power when the Holy Spirit comes on you; and you will be my witnesses in Jerusalem, and in all Judea and Samaria, and to the ends of the earth."(Acts 1:8)
So this Ascension Day is all about witnessing and hope. We have hope that Jesus is still alive! And we have hope that Jesus will one day return to make all things right, and new. And because of this, we witness to others what His life, death, resurrection, ascension and imminent return mean to everyone. We want this same hope for others … and so we tell of this great news – Jesus is not dead, He is alive and reigning on His throne in heaven!
When He returns will you welcome Him?
I look forward to seeing you around Redeemer sometime soon!
Blessings & Peace,
Pastor Augie