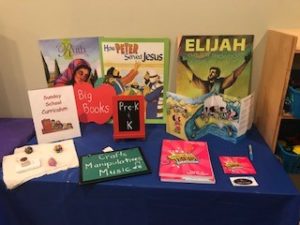 On September 8th, we celebrated Promotion Day together with the Blessing of the Backpacks and the launch of the rebranding of our Sunday School – "Kidz 4 Christ". And, it was a big success! The children started out in Large Group singing and dancing followed by special treats, art, crafts and games. Next, to their classrooms to learn about God. If you haven't already, please take a moment to come downstairs and see "The Scripture Wall" and what's happening in our Sunday School.
We are always looking for volunteers in our Sunday School, so if God is calling you, please contact me at
rhonda@redeemerbythesea.org
or at 760-518-7449.