Please join Redeemer in a month (or more) of service! Thank you to all the volunteers who delivered lunches to 48 Carlsbad Firefighters. We received a nice thank you letter from the Carlsbad Fire Chief.
For those who work or have kids with online school & still want to help- next Friday, Oct. 9th we will be delivering dinners to 18 Solutions for Change family members & 16 staff at two locations – at either 4:30pm or 5:15pm. Solutions for Change is a program that equips families with the skills, knowledge & resources to permanently solve family homelessness.
Ways you can help:
Donate Money towards the boxed dinners
Volunteer to pick up food from Panini Kabob Grill & deliver to Solutions for Change.
Volunteers can all wear your green Redeemer Serves T-shirts (contact me if you need one!)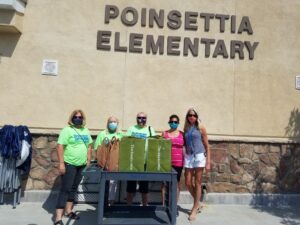 CLICK HERE if you would like to Volunteer or Donate!
Thank you for all your help delivering previous lunches!
August 28th – 45 lunches to the Carlsbad Police
September 2 – lunches to 24 teachers & staff at Poinsettia elementary school.
September 18 – lunch to the 7 Carlsbad Fire Stations