JR. HIGH STUDENT MINISTRIES
2019 DYG Registration

The Jr High DYG (District Youth Gathering) will be at the Irvine Ranch Outdoor Educational Center again this year. This center has it all: worship space, activity space, great hiking and camp activities, and sleeping accommodations.
The theme for this year's Jr. High Gathering is "Chaos" based on Mark 15:32 "But we had to celebrate and be glad because this brother of yours was dead an is alive again; he was lost and is found." We will be exploring the parable of the Prodigal son from Luke 15:11-32 from the different perspectives of the son that leaves, the son that stays, and the father. As we look through these different perspectives, we will see the chaos in dissatisfaction, being lost, jealousy, and the amazing chaos and blessing of forgiveness.
During the Jr. High DYG, our youth will explore how they can relate to the chaotic story of the prodigal son. Over the course of the weekend we will talk in depth about the chaos we often feel in our own lives, and the feelings of dissatisfaction, being lost, jealousy, and how God's forgiveness covers the chaos of all the emotions of our lives. Friends are welcome to attend!
Summary:
When: March 22-24, 2019
Cost: $100 early registration until 1/28/19, $130 late registration until 2/25/18. It includes transportation, your meals at the camp, lodging, activities, and materials. A limited number of scholarships are available for those in need – please see Rachelle for an application form.
We will meet at the church at 4pm on Friday March 22nd. Please bring money for dinner on the way up.
We will return to the church at approximately 12:30pm on Sunday March 24th.
What to bring:
Water bottle
Sleeping bag or bedding, towel, washcloth, pillow
Clothes for 2 days: socks, underwear, modest pajamas, jacket or sweatshirt (for evenings or in case of rain), shorts or long pants, t-shirt, and shoes.
Flashlight, Sunscreen, Chapstick
Bible and pen
Money for Dinner on the way to camp
You may also bring a friend!
Do NOT bring: game-boys, CD-players, IPODS, MP3 players, alcohol, tobacco, drugs, weapons, shaving cream, knives
Open heart – to hear God's word and have FUN!
Thank you and looking forward to seeing all of you there!
Please complete and return to the office for your student's registration:
Check made out to "Redeemer by the Sea" with "DYG2019" in the memo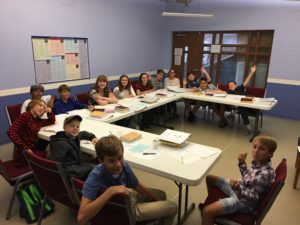 CONFIRMATION
Confirmation here at Redeemer by the Sea is a 2 year process in which young people in grades 7-8 experience a rigorous education on the foundations of our Christian faith.
Our Confirmation instruction is designed to help young people
to:
1. Personally confess Jesus as Lord and Savior.
2. Explore the nature and mysteries of God and faith.
3. Identify themselves as members of the Body of Christ, within the Lutheran denomination.
If you are interested in registering for the 2018-19 year, contact Rachelle in the office. They meet on Sundays at 9:45am in Room 3.