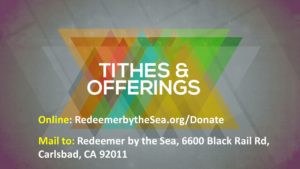 Thank you for your faithful and continued generosity.
To simplify faithful giving, choose "recurring" gift, then when you're away or you forget, you've put God first. Options available include:
2. One time or recurring electronic deposit from your bank or credit card
3. Text "GIVE" to 442-222-2448. The first time you text to this number, you will receive a response text prompting you to register via a secure registration link. The next time you want to text a gift, simply text the amount to the number! Your payment information is stored securely within our secure giving platform, so there is no need for you to re-type payment information every time. Note that text donations are not settled by your cellular service carrier.
4. US Postal Mail (6600 Black Rail Rd, Carlsbad, CA 92011)
For any questions regarding giving please contact
Rachelle
in the church office.