Video Messages from Church Leaders:
Dear Redeemer Friends and Family,
We read repeatedly in Scripture the words: "Do not be afraid." But where does our confidence come from in the face of danger and fear? … The prophet Isaiah tells us it's the Lord himself – He is our strength and our defense! This is our hope. And this is the basis of the joyful trust to which we cling. So it is with trust in the Lord and love for our community that our leadership has prayerfully and with much discussion and analysis determined the following response to the Coronavirus (COVID-19) pandemic.
WORSHIP
In-person Sunday morning worship services are canceled until further notice. We will continue to adhere to the regulations and recommendations of our government and health officials. Our prayer is that the need for these extreme measures will soon pass.

In lieu of in-person worship in our sanctuary, we will have video of our worship service posted on a variety of platforms. You can find various viewing options by visiting our online-worship page HERE. We are continuing our "SOUL KEEPING" message series, recognizing that our soul needs to be guided by the Word of God. We encourage you to experience the Word of God online with us this weekend.
Our midweek Lent, "Dinner and Devotions" are being conducted online. Click HERE for more information about how to join us on Wednesday evenings.
OTHER EVENTS
Our Junior High Confirmation classes are continue online.

The Sunday School Family Potluck planned for Sunday March 29th is postponed.

Our Quarterly Voters' Meeting scheduled for March 22nd has been canceled. Redeemer members will be emailed reports at a later date.

Our LifeTouch directory photography sessions are postponed
The 4th-6th Grade "Shine" event is postponed

Our Preschool and Kindergarten has closed. The school administration has separate channels of communication that they use directly with their families.
CHURCH BUILDING
While our governor has issued a "stay at home" order, our church building is closed to non-essential personnel and non-essential activity. However, if the building is accessed, we are requesting that all surfaces, chair backs, door handles and light switches are disinfected before and after use. During this closure, our office staff will be working remotely but they still have access to their email and voicemail during these restrictions.

Our custodians continue their cleaning schedule, with added efforts to disinfect door handles.

Our pews in our sanctuary have been professionally cleaned, and all wood surfaces on the pews have been washed and sanitized.

While supplies are limited, we are doing our best to make hand sanitizer, disinfectant wipes, sanitizing spray and paper towels readily available throughout the building.
AT HOME
We encourage you all as individuals to continue to stay informed as you make decisions regarding the activities in which you participate, including staying at home if you exhibit any cold or flu-like symptoms. We care about you and the health of all in our community. Information links from various government sources are provided above.

In the coming weeks, let us together, live out the hope of Isaiah 12:2, that God is our salvation, our strength and our defense. We need to remind ourselves that we are not taking these precautions out of fear. To the contrary, the Apostle Paul reminds us that "neither height nor depth, nor anything else in all creation, will be able to separate us from the love of God that is in Christ Jesus our Lord." While our life together is being altered, we are not ceasing to be the Church. We still are the people of God. As such we will still pray together, and we will still support one another and our community. Furthermore, we will continue to live out the hope of the Gospel as a witness, knowing that our Lord Jesus Christ has promised that His death and resurrection has secured our life with Him forever. What hope! What assurance! What comfort!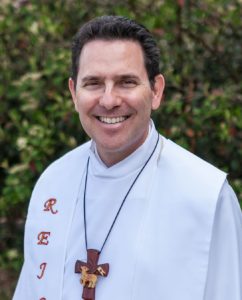 Confident in Christ,
Pastor Augie