"I will sing to the LORD all my life; I will sing praise to my God as long as I live." – Psalm 104:33
Redeemer offers some terrific opportunities to worship through various styles of music. Our two regular Sunday services provide a traditional setting with historic liturgy, vestments, organ music and choir at 8:30 a.m.; and a contemporary service at 10:30 a.m. service that has a less formal setting with music led by our Praise Band. We are confident that you'll find a style that suits you. Why not check them both out!
Chancel Choir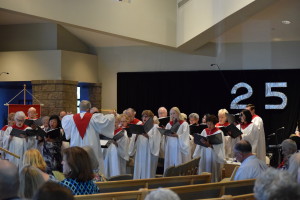 The Chancel Choir sings at the 8:30 a.m. service, generally two or three Sundays a month (August-June), and for Christmas, Easter, and special services throughout the year. They perform "traditional" music, as well as other styles (contemporary gospel, spirituals, etc)… Rehearsals are generally every Wednesday evening from 7:00 until 9:00 p.m. in the sanctuary. Love of singing praise to God, team spirit, and dedication are absolutely necessary!
For more information and to apply, contact Gary Wilson at
.
---
Praise Band
The Praise Band leads worship every Sunday at the 10:30 am Contemporary Service. Rehearsals are Thursday evenings at 7:30 pm. The band includes acoustic guitar, electric guitar, bass, piano/keyboards, drums, and vocals. Anyone interested in playing with the worship team is welcome to come check out a Thursday evening practice. For further information, feel free to contact Joe Flatt at joe@redeemerbythesea.org.
Praise Band "Favorite Things"
SAVE THE DATE for "FAVORITE THINGS" – praise concerts put on by your very own RBTS praise band, featuring some of their favorite praise songs! Two Saturday's this summer from 7:00 – 8:00 PM: July 29 and August 26! Come on out! Invite your friends and neighbors! Enjoy music, coffee, and treats! It's going to be AWESOME!
Musicians and aspiring musicians of all ages (including adults) are invited to perform with the Redeemer Praise Team! Instruments and vocals will be coached by the professional Redeemer musicians. There is no cost to attend, but pre-registration is required as space is limited. Parents can drop off their kids or wait in the lobby with coffee and free Wifi. Instruments available are: acoustic & electric guitar, ukulele, bass, keyboard, drums and vocals. For the next date or more information contact Joe Flatt at joe@redeemerbythesea.org or REGISTER HERE.