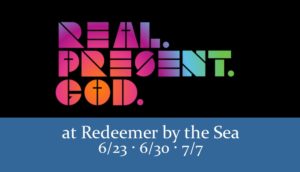 Psalm 46:1 sets the stage for our next few weeks: "God is our refuge and strength, a very present help in trouble." In this short verse we encounter our Real. Present. God. Today we will focus on the first word, "Real." That word has several potential connotations, but we will explore two of them in particular. First – we understand something to be "real" if it is physical, earthly, tangible and actual. This life that we live is real – not fiction and not fantasy. Second – we desire and ned "real" relationships – ones that are authentic, candid, honest, frank and vulnerable. We certainly seek that with each other, but especially with our Real. Present. God.
We continue pondering our Real. Present. God. particularly as we encounter Him in the Psalms. Have you ever considered the words of Psalm 139:1 "Where can I go from your Spirit? Where can I flee from your presence?" These are either terrifying or comforting words depending on your perspective. If you are hiding from God, His presence might be unnerving but if you are afraid or in danger, then God's presence is a great comfort. In Psalm 46, God's presence is offered as a comfort to His people. The image is of God as a refuge – a place of great strength when you are weak and a place of protection and provision when you face persecution or struggle. We thank God for his sweet and comforting presence in our lives!
God is God. You're not. Your favorite (or least-favorite!) politician isn't. Not even Morgan Freeman (of
Bruce Almighty
fame) can claim that honor. God is God. Cancer isn't God. Divorce isn't God. Chronic pain isn't God. Not even death gets

to be God. God is God. And He is all-powerful and utterly unique. "Come, behold the works of the LORD, how he has brought desolations on the earth. He makes wars cease to the ends of the earth; he breaks the bow and shatters the spear; he burns the chariots with fire. 'Be still, and know that I am God. I will be exalted among the nations, I will be exalted in the earth!' The LORD of hosts is with us; the God of Jacob is our fortress" (Psalm 46:8-11). Oh how blessed we are to know and be known by our Real. Present. God.