Jun 20, 2021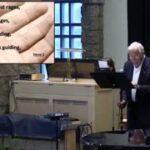 Beg, Borrow But Don't Steal, God loves to provide for us
THE TEN[DER] COMMANDMENTS: Beg, Borrow But Don't Steal God loves to provide for us (cf. 2 Corinthians
9:10
). Stealing takes what God has provided for someone else and tries to commandeer it for oneself. Therefore, stealing distrusts God's provision. Theft, of course, is not just a crime of the poor. As the story of Zacchaeus demonstrates, even the rich can fall prey to distrusting God's provision. The remedy for theft is both faith in God and generosity toward others. Do we live our lives in this way?
Watch
Notes
Download
Date
Title
Jun 20, 2021

Beg, Borrow But Don't Steal, God loves to provide for us

Jun 13, 2021

No Excuses

Jun 6, 2021

"Pleading the Fifth"

May 30, 2021

R-E-S-P-E-C-T

May 23, 2021

Stop! In the Name of Love

May 16, 2021

Name Brand

May 10, 2021

One and Only

May 2, 2021

The Zero-eth Commandment

Apr 4, 2021

Easter Worship – Blended 9:30am Service

Mar 28, 2021

The Holy Spirit and His Church

Mar 21, 2021

Part 5 – Ascension & Return

Mar 14, 2021

Part 4: The Resurrection

Mar 7, 2021

Part 3: Vicarious, Voluntary and Victorious!

Feb 28, 2021

"Lord Jesus, God and Man"

Feb 21, 2021

Part 1: I believe in God the Father Almighty, maker of heaven and earth.