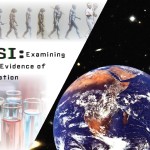 Often we are led to believe that the universe is tens of billions of years
old. Why is it important for the theory of evolution that the world be so
old? Why would it be necessary for humans to inhabit the planet for
hundreds of thousands of years? But what does God say about the timeline of
His creation? Is it really at odds with what we see when studying the
universe, or is it rather a clash of worldviews and assumptions? And if
humans did evolve slowly over a very long period of time, doesn't that
violate what Scripture says about Adam and Eve and the Garden of Eden?