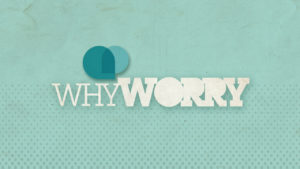 Worry—it's universal. Yet Jesus said, "Don't worry!" Easier said than done. In this 3-part series, we explore what Jesus had to say about worry. We learn where worry comes from, why it's so difficult to overcome, and what you can do to conquer it. It's particularly relevant for this time in which we find ourselves. In today's message we hear God whisper to Elijah, "What are you doing here?" When we turn to worry, we blind ourselves from seeing God's faithfulness in the past and from trusting Him in the future. When it comes to worry – just don't go there.
My Next Step(s):
○ I will recount God's faithfulness in my past.
○ I will make (and keep) a list of the ways that God has worked in my life.
○ Instead of running in fear, I will trust in God and go where He has called me.
○ I will choose not to worry about tomorrow.