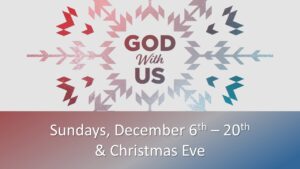 You're not alone. He's with you through the pain. He comforts you in the waiting. When you're anxious about your future, He gives you courage. As you climb the mountain, He keeps you safe in His arms. In every moment, we have God With Us. Does the struggle in the storms of life make your faith waver? In Week 3 of God With Us, we learn how we can trust God in the middle of the Storm.
Questions:
– What's a major storm you've experienced in your life? How has it changed the way you relate to God?
– Pastor Augie said, "Peace isn't found in the absence of a storm. Peace is found in the presence of God." What are some ways you try to find false peace? How will you seek God's presence instead?
Action:
– Who do you know who is going through a storm? How can you show them God's love this week?
– Look for the ways God was with you during a stormy season in your life. Then thank Him for it in prayer and worship this week.
Visit RedeemerbytheSea.org/Online-Worship.