May 10, 2020
Uncertainty is Nothing New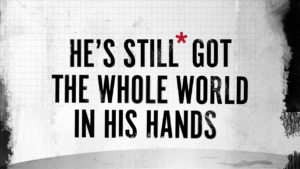 How do we remain hopeful in a world that seems hopelessly broken? How do we continue to trust a God that seems conspicuously absent? How do we find peace in a world that is spinning out of control? If you've ever asked questions like these, you're not alone and you're not the first. The uncertainty we face today is no different from the uncertainty faced by the men and women of the Bible. And like them, uncertainty can cause us to question God's faithfulness, His presence and His concern. In this 3-part series, we're reminded that . . . He's *Still* Got the Whole World in His Hands.
My Next Step(s): ○ I will learn from God's faithfulness to His people in the Bible. ○ I will recount God's faithfulness in my past, even in uncertain times. ○ I will trust that God is still in control and working all things together for good.
Watch
Notes
Download
Date
Title
May 10, 2020

Uncertainty is Nothing New

May 3, 2020

Don't Go There!

Apr 26, 2020

Worry is a Choice

Apr 19, 2020

The Root of Your Emotion

Apr 12, 2020

Easter

Apr 5, 2020

The Practice of Growth

Mar 29, 2020

The Practice of Gratitude

Mar 22, 2020

The Practice of Grace

Mar 15, 2020

What the Soul Needs

Mar 8, 2020

The Struggle of the Soul

Mar 8, 2020

The Struggle of the Soul

Every person eventually has what St. John of the Cross once described as a "dark night of the soul." When we are in a dark time in our lives, instead of being led by the emotions of our souls, we need to talk to our souls, and remind ourselves that our ultimate hope rests in God.

Mar 1, 2020

What is the Soul?

Mar 1, 2020

What is the Soul?

Most people think of the soul as a nebulous part of them that is mysteriously internal to them. The Bible, however, often uses the word "soul" to describe the whole of who we are. The soul is what holds us together. When God creates the first man, who becomes a "living being" (Genesis 2:7), the Hebrew word behind this phrase is the word for "soul." When any part of us is off – be it our emotions, our bodies, or our minds – our souls are off.

Feb 26, 2020

Sharing the Gospel in 7 Words

Feb 26, 2020

Sharing the Gospel in 7 Words

While ashes are a focal point of our worship this evening, we also remember that these forty days of Lent, from ancient times, have been kept as a time of special devotion, self-denial, and humble repentance born of a faithful heart that dwells confidently on God's Word and draws life and hope from it. As such, we as God's people desire to communicate that Word to others. The Apostle Peter reminds us, "But in your hearts revere Christ as Lord. Always be prepared to give an answer to everyone who asks you to give the reason for the hope that you have. But do this with gentleness and respect" – 1 Peter 3:15

Feb 23, 2020

Follow Me

Feb 23, 2020

Follow Me

Love ultimately calls for commitment. This is why couples speak vows at their weddings. This is why parents make promises to their children. To love Jesus, we must commit to following Him, even as Jesus has committed to dying for us.

Feb 16, 2020

Be Not Afraid

Feb 16, 2020

Be Not Afraid

John writes, "Perfect love drives out fear" (1 John 4:18). Stephen was a man so convinced of God's love for him in Christ that he was willing to face even martyrdom because he knew his eternity was secure.