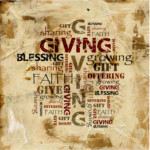 A Christian steward (from where we get the word, "stewardship") is a child
of God who realizes his/her role in life as a partner, a trustee, a
manager, a caretaker or a temporary custodian of gifts that belong to God.
The Christian steward receives God's precious gifts gratefully, manages
God's precious gifts carefully and responsibly according to his or her
vocations, shares God's precious gifts with others generously, and returns
God's precious gifts joyfully with increase. We have been granted the high
privilege of being God's stewards. God created us to be stewards, and He
re-created us in Holy Baptism to be Christian stewards. It is a position
that comes to us completely by God's grace in Christ!